Resources
View more information below about using 25Live, reservable spaces, additional fees and charges, and the various campus resources available for your event.
Large Events Calendar
This calendar provides information about upcoming events that have 250 or more expected attendees. View the Large Events Calendar
Room Set Up Options
ECU has a variety of reservable spaces – some have fixed set ups but others can be set up in the following styles:
Classroom Style Set Up
Classroom style is ideal for teaching events, or other meetings where participants will be writing. This setup consists of 6-foot or 8-foot tables with up to 3 or 4 chairs facing a panel table or podium at the front.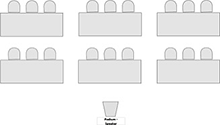 Auditorium Style Set Up
Auditorium style is ideal for lectures, presentations, and group meetings of any size that do not require extensive note-taking. It consists of chairs in rows facing a panel table or podium at the front of the room.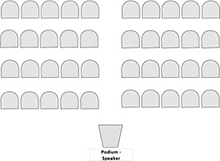 Banquet Style Set Up
Banquet style is the most common setup for events serving meals, or round table discussions. 60″ round tables can seat eight chairs around each table.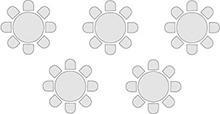 Closed Square Set Up
Appropriate for groups fewer than 40 where there is a group leader or panel seated at the head of the set up.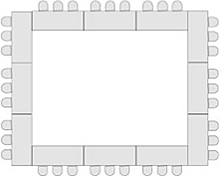 U-Shape Set Up
A U-shape setup will help facilitate discussion with participants facing each other, but with one end open, U-shape setup is ideal for seminars and group meetings with presentations.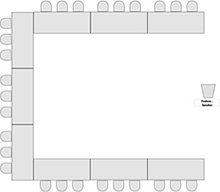 Conference Table Set Up
For small to large groups, conference room style consists of 6-foot tables arranged in a rectangle with chairs around the outside. This setup facilitates discussion and is ideal for group meetings and discussion sessions..

Catering
Requests for Catering can be made through ECU Catering (Aramark)
**Please be advised that CRO is no longer able to provide linen rentals. Linen rentals are still available through Aramark catering.**
Parking &Transportation
If your event requires parking, please contact the ECU Parking and Transportation Office via email at eventparking@ecu.edu or phone 252-328-1960 with questions.
The larger the event, the more notice P&T needs.
Central Ticket Office
If you expect to charge admission, sell tickets, or print tickets for your event please contact the Central Ticket Office (CTO) for charges and policies at 252-328-4788.
Disability Support Services
If your event requires any ADA accommodations, please Contact DSS 252-737-1016 or dssdept@ecu.edu to make arrangements.
Police
The ECU Police Department schedules sworn and non-sworn personnel to work special events on campus. Please review the Terms and Conditions on the ECU Police website prior to requesting police services. For further information about special event staffing, please contact ECU Police at 252-737-7433.